Are you looking for more clarity about your purpose in life? 
There are three things you need to know.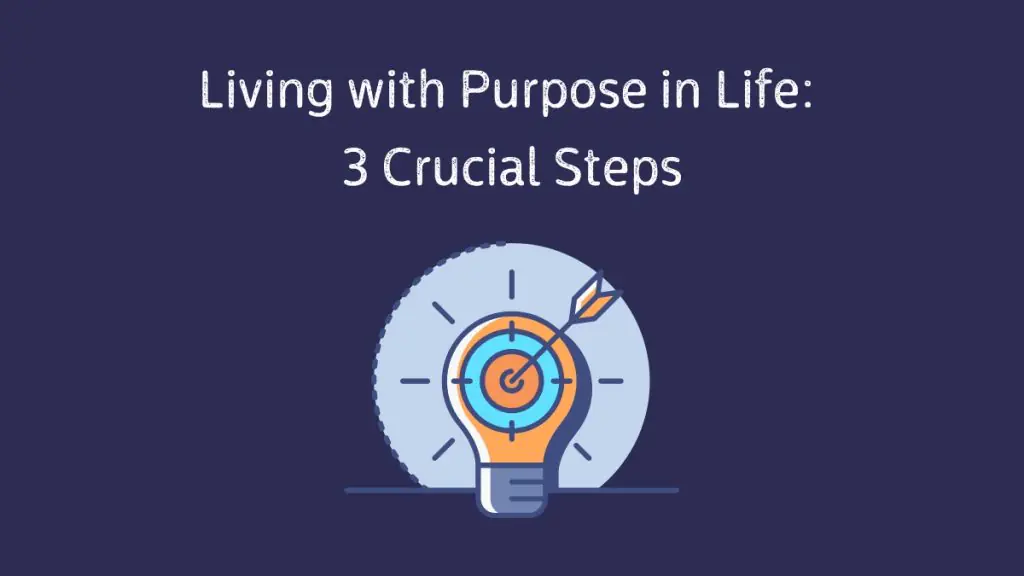 Unfortunately, the modern education system doesn't teach us about our purpose in life.
In today's world, education focuses more on imparting information than helping us discover our true selves. This approach has nothing inherently wrong since everyone receives the same education, and we mostly enter the workforce with the necessary skills to do simple jobs.
However, the human element is ignored. 
The human element
Statistics show that two-thirds of modern people feel unhappy with their work and relationships, and half of all marriages fail.
Many people need more self-awareness to make good choices where careers and relationships are involved.
If you aspire to fulfill your purpose in life, following the same path as everyone else may not be the best choice.
A real-life example
I faced similar challenges in my career and life. Despite holding a master's degree in business, I was overlooked for promotions four times in three years and was dissatisfied and confused. Each time, one of my peers became my boss. My new bosses were individuals with whom I had worked at the same job level or within the same organization.
Moreover, my personal life was also affected. My wife treated me poorly. Later I realized this pattern of mistreatment had been present throughout my life. People close to me had treated me poorly since childhood.
Realizing this, I was inspired to get to the bottom of it. First, I wondered if I'd been doing something wrong, but nobody told me to stop. Later, I wondered if there was something I needed to do, but I didn't know what it was.
I hired coaches, counselors, and therapists, took courses, and attended 12-step programs and experiential learning seminars.
Ultimately, I saw that the quality of my relationships could have improved, and I'd never stepped into being the leader they told me I'd be after graduate school.
When I saw that my purpose in life was to make sure everyone wins, my relationships and teams improved. I became more effective — and so did the people around me. My manager promoted me, and now I'm consistently chosen to lead teams. I receive regular feedback about the positive contribution I make.
How to find purpose in life
If you're in a similar situation, seeking answers and making necessary changes is essential.
Discovering your purpose and finding fulfillment often requires going beyond what is conventionally taught. It demands a journey of self-discovery and learning that most people tend to overlook. By taking a different path and exploring unconventional approaches, you can break free from the patterns that hinder personal and professional growth.
There are three things you need to know.
1. Find purpose in life by embracing clarity
The first and foremost aspect is clarity of purpose.
It is crucial to clearly understand what you value, what is important to you, your strengths and weaknesses, and what you truly want to achieve.
If your purpose in life is to follow the traditional path of going to college, getting a good job, raising a family, and hoping to have some money left before passing away, you may want more.
This realization holds not only for me but for everyone.
We all need something more that genuinely fulfills us on a deeper level.
2. Find purpose in life by cultivating a strong mindset
The second crucial element is cultivating a bulletproof and unstoppable mindset.
Interestingly, this mindset is available to everyone at no cost.
Once you uncover your purpose in life, which is within you, it becomes easier to access. It's just that this is the first time anyone has asked you about it or helped you explore it.
A simple question or conversation can lead you to discover your purpose.
3. Find purpose in life through meaningful relationships and leadership skills
The third essential aspect is developing leadership skills, which begins with nurturing great relationships.
Unfortunately, leadership has gained a negative reputation in modern society for reasons you may be familiar with.
Many individuals who label themselves as leaders or are recognized as leaders need help maintaining healthy relationships. They need to be more reliable partners in relationships.
However, leadership skills are something that anyone can learn. It is within the reach of every individual to become someone others genuinely enjoy being around and want to spend time with. Reflect on your own life and consider the individuals who effectively lead you.
The people you would identify as leaders are likely those who possess the qualities that resonate with you and can inspire.
Fulfill your Purpose in Life
Three ways to go from confusion to clarity and fulfill your purpose in life:
1. See what's holding you back from fulfilling your purpose in life
You will receive an answer for free by email within a few minutes to guide your journey.
Do you need help determining which of these three aspects is most lacking in your Personal Strategic Plan and preventing you from fulfilling your purpose in life?
2. Clarify your purpose in life with a blueprint
3. Clarify your purpose in life with a conversation